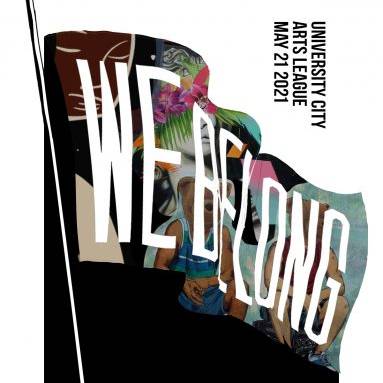 21 May 2021 12:00 PM - 18 Jun 2021 6:00 PM
Art & Culture
Family
Learning
Nearby SY
WE BELONG is a public art exhibition by 4 Latinx-Hispanic visual artists based in Philadelphia. Calo Rosa, Manuela Guillen, Marisa Velazquez-Rivas, and Sean 9 Lugo use their work to tell the stories that center the Latinx-Hispanic experience in the United States. WE BELONG is inspired by Latinx-Hispanic immigrants and the children of immigrants that take part in building an America that is better for one another.  Yet, our community often faces racial barriers, often seen as "outsiders" – the words "what are you" or "go back to your country" are familiar to our community. While these actions are meant to keep our community oppressed, we find ways to thrive. WE BELONG is a space that spotlights our community's stories of survival, resilience, and joy.
The University City Arts League encourages those who experience the public art exhibition to ask themselves, how will you support marginalized communities; will you actively listen to our stories, the story of our families; will you accept all Americans no matter how they got here? Join UCAL in this empowering public art exhibition that unites us and pushes forward the message WE BELONG. 
COVID SAFETY MEASURES:
Everyone must wear a mask at all times inside the gallery and UCAL building
Limit of 15 people in the gallery space at one time. Folks must be aware of social distancing and we will have to limit the time people are in the gallery so others can get in. Those attending the opening on Friday, May 21st MUST sign up for a timeslot. Those attending the drop-in viewing on Saturday, May 22nd from 12 noon – 6 pm should be aware that they may have to wait to enter the space if it is crowded. 
There will be a reception with refreshments in the backyard of UCAL for those attending the opening on Friday, May 21st. Masks should be worn when visitors are standing and can only be taken off when seated.